For those of you who love the look of wood floors and have considered doing the tiled alternative, this post is all about our quest for the right wood look tile for our needs. We hope this will provide you some things to consider during your search.
Our search began with numerous recommendations to visit the famous "Tile Row" in Upland, CA. Plus our favorite place to get ideas - PINTEREST of course!
But first, we should start by sharing our need for new flooring. We live in a beautiful Condo here in Southern California with two of the most silliest roommates - our Pug and Dachshund. Unfortunately, our lifestyle gets the best of us at times and we don't always get home in time to let the roomie's out. Secondly, as you may know, carpet is not the easiest to maintain over time. Even in a house where shoes were left at the door - our carpet began to show wear over time.
Like many of you here, it was love at first sight when we first saw wood look tile. Not only because of how gorgeous and natural it looks but the long lasting, low maintenance care was a major selling point. Even better, any excuse to whip out the steam mop in a snap is a plus!
We visited several big box stores but there was always something about the print or pattern of the tile that we just weren't feeling. Have you found this to be true with you too? We learned that some tiles were laser printed while others weren't. Also, that Italian Tile tends to lay smoother than tile from other countries. This would make the floor more even rather than having a variance in height amongst each tile once installed.
We found that we were particular about the design and pattern of the "grain" within each tile. With this new knowledge, we began looking for tile that had a large variance in patterns within each box. We didn't want to notice two tiles laid next to each other that had the same matching grain pattern in the floor. Kind of ruins the "wood look", right?
We ended up going to Arizona Tile here in Ontario, CA off the 15 freeway to get some flooring ideas from a major manufacturer. We found several tiles attractive yet we fell in love with this tile - Aequa Tur! It's available in two sizes, we opted for the 8" x 32" size.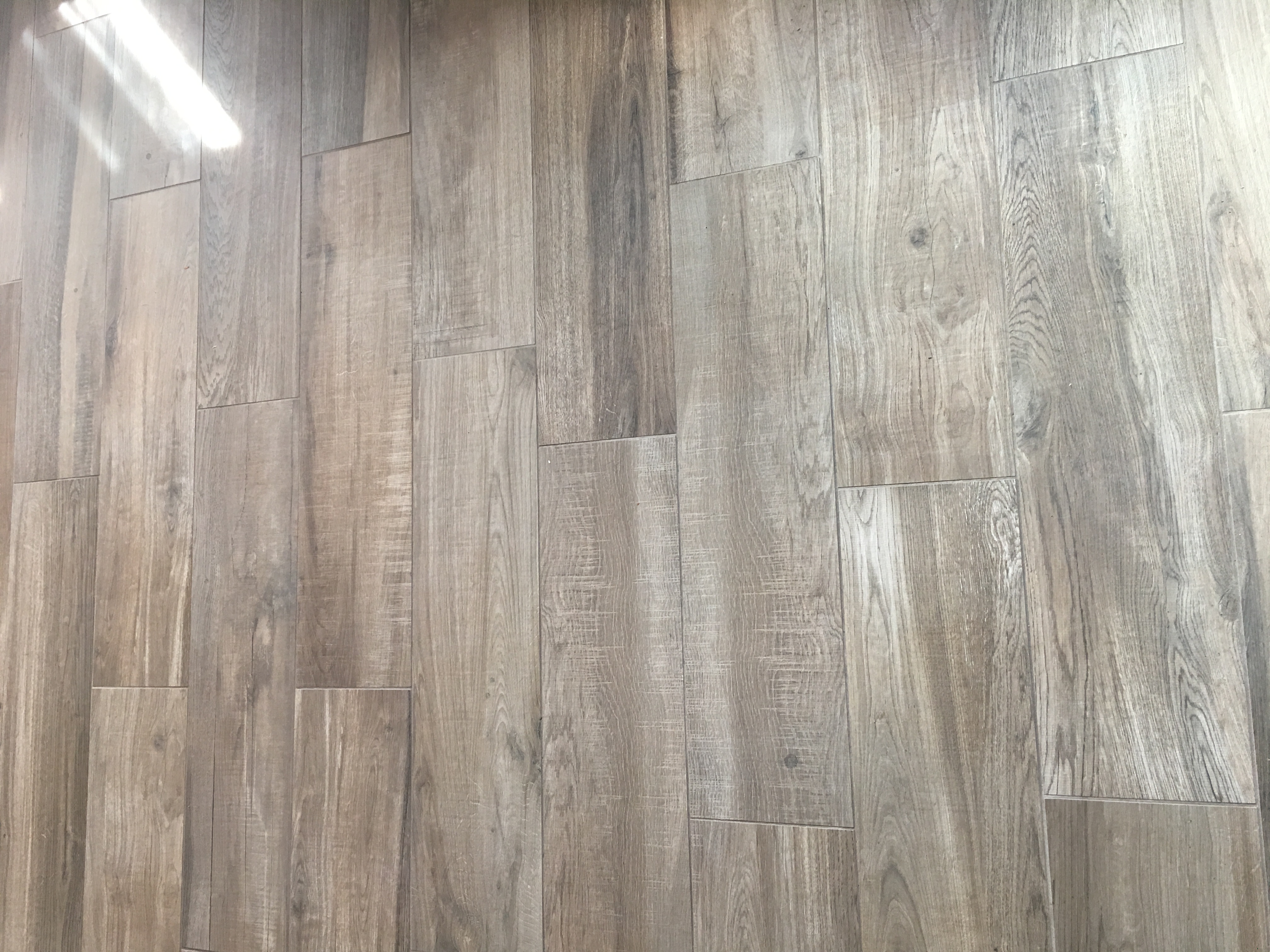 We also discovered we loved the tile wood look when the grout was closely matched to the colors in the tile and not contrasted. We felt the Grout Color Khaki was a good neutral color that would not draw attention to the grout lines - also sold at Arizona Tile and The Home Depot. We asked our installer to lay the tile as close as possible to get the smallest grout lines, without jeopardizing the sturdiness of the tile. This was a 1/4" grout line.
Lastly, the tile patterns were important to us as we were not fond of the brick layout. With this in mind, we asked the installer to place it in a staggered pattern so that it looked natural and farmhouse style!
We hope this post helps your quest for wood looking tile floors!
Let me not forget our favorite feature!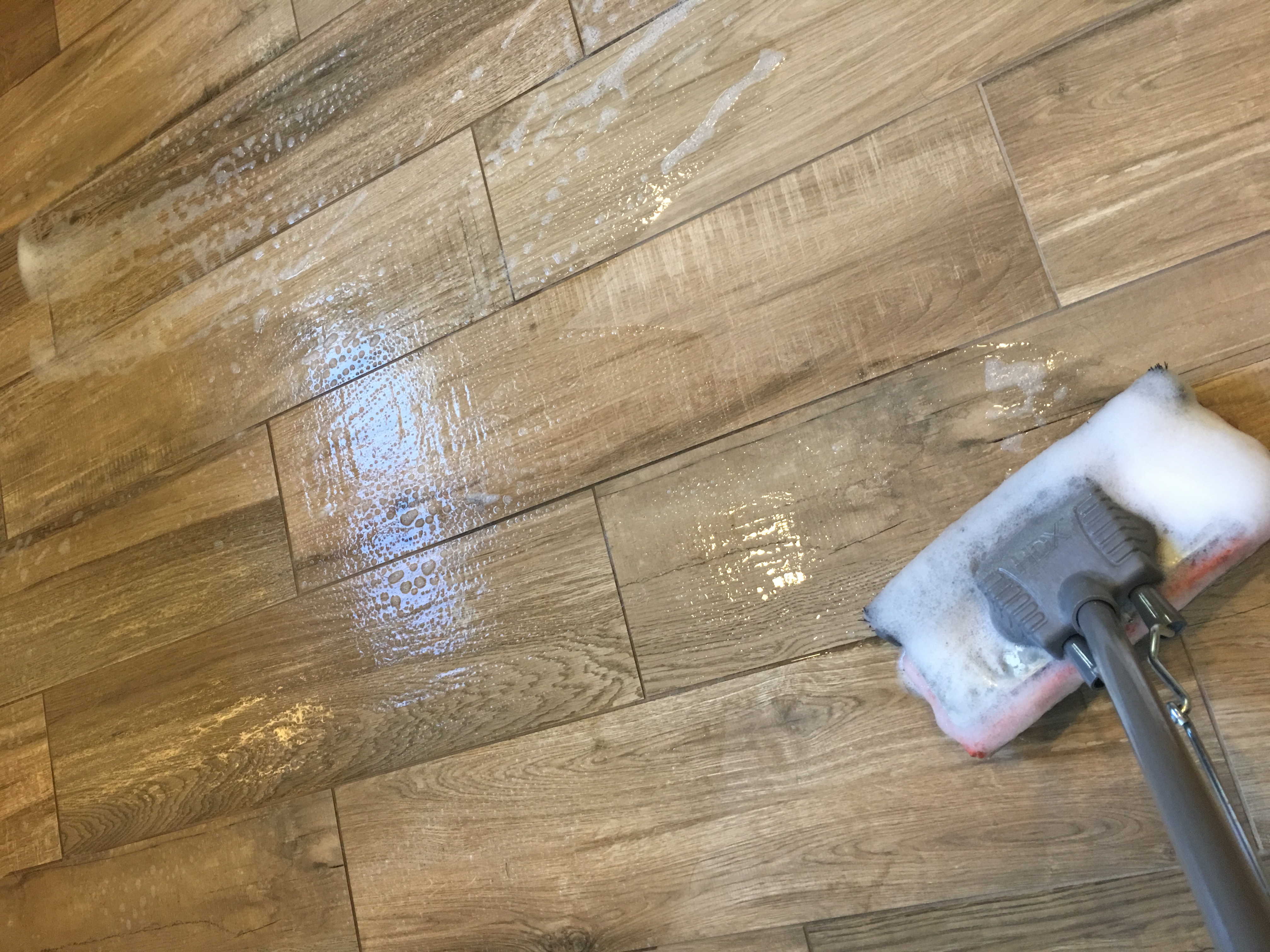 We'll let the picture do the talking ;)
Oh by the way, while on our site, be sure to check out all of the beautiful homes for sale in Southern California - I bet you can find some examples of awesome wood look tile floors & more. To create a custom home search, click >>> Custom Home Search. Interested in your property value, click >>> Free Home Value Report.
Thanks for reading our blog post & visiting our site. Stay tuned for our next adventure...Casey, Sarah & the Matisse Realty team.